Gallimaufry
Elizabethan & Jacobean music at Court, in the Country, at the playhouse & in the streets.
View full details - including track listing and sleeve notes.
Gallimaufry was recorded at the archeological site of the Rose Theatre in February 2005 - the first recording ever to take place in that venue.
'Gallimaufry, n. Heterogeneous mixture, jumble, hodgepodge, ridiculous medley, 1551' OED
'Our gallimaufry is made up of theatre songs, broadside ballads, street cries, consort songs, divisions, masque music, dance tunes, italianate fantasias and a devotional song. It is a collection of music we take delight in and hope that you may do the same, we make no excuse for the jumble!' Read full sleeve notes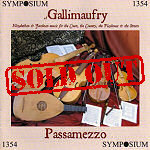 Gallimaufry - CD
Sold Out
Price: £15.00 (inc. p&p)